LATEST NEWS
Angry Bubble Productions produces La Lupa Italian Cultural Arts Festival. Media members interested in covering the festival may contact the producers at:
phone (323)769-5808
email: info@LaLupaFest.com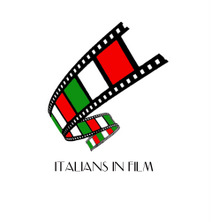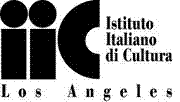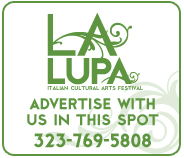 Home

Welcome to the official website of the

La Lupa Italian Cultural Arts Festival.


La Lupa Italian Cultural Arts Festival (LA LUPA FEST) is an event established to broaden the Los Angeles community by creating a festival that enriches and exposes diverse neighborhoods to Italian and Italian-American inspiration, passion, and culture of today. LA LUPA FEST is the first Italian Cultural Arts Festival of its kind in Los Angeles, celebrating Italian Culture and Art in a contemporary context, featuring established and emerging Italian and Italian American artists in Theatre, Film, Fine Art, Dance, Music, Poetry and the Culinary Arts.

Italian culture, for many years, has either been experienced in the context of the past and almost exclusively focusing on artists from the age of antiquity through the Renaissance.

Italo-American culture, for many audiences, singularly associates numerous portrayals in mafia films, food and wine centric images and the overbearing loud family cliché. LA LUPA FEST seeks to broaden those images and embrace the diversity of the rich tapestry of Italian and Italo-American artists.

What has long been missing from the Italian festival scene is a celebration of contemporary Italian and Italo-American artists from a variety of disciplines. A culture as marvelously vast, intricate and rich as ours (both native Italian and Italian-American) needs to be celebrated more often and in all its facets and complexities. LA LUPA FEST will feature poets, fiction writers, actors, musicians, filmmakers, singers, dancers, and fine artists.

LA LUPA FEST welcomes you to a celebration of art, music, dance, cinema, cuisine and theatre.



in bocca al lupo