Shows

SOLO ANNA
by Franco D'Alessandro
Directed by Eva Minemar

Performed by award winning Italian Actress
Lidia Vitale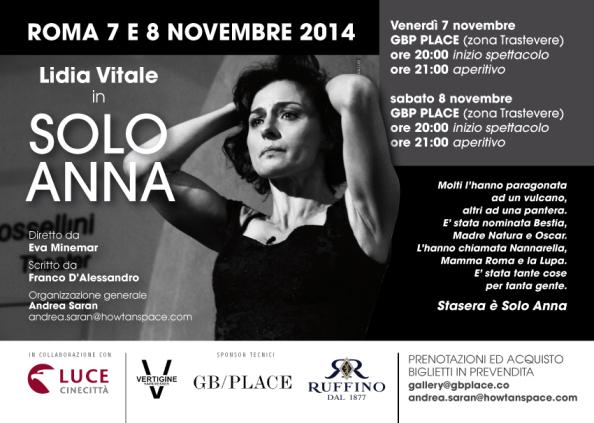 Venerdi` 7 e Sabato 8 Novembre 2014
GB PLACE (zona Trastevere)
ore 20:00 inizio spettacolo



June 12 at 7:00 PM
@ Italian Cultural Foundation at Casa Belvedere
77 Howard Ave, Staten Island

June 13 at 8:00 PM
@ Casa Italiana Zerilli-Marimo' at NYU
24 W 12th Street, Manhattan
www.casaitaliananyu.org

June 15 at 2:00 PM
@ Belmont Library/Enrico Fermi Cultural Center
610 E. 186th Street at Hughes Ave. Bronx
http://www.bronxlittleitaly.com


Reservations and Information: (866)-263-2924
www.inscenany.com
as part of the In Scena! Italian Theater Festival NY


6 maggio 2012
Spazio Mixo'
Via Fivizzano
Roma (Pigneto)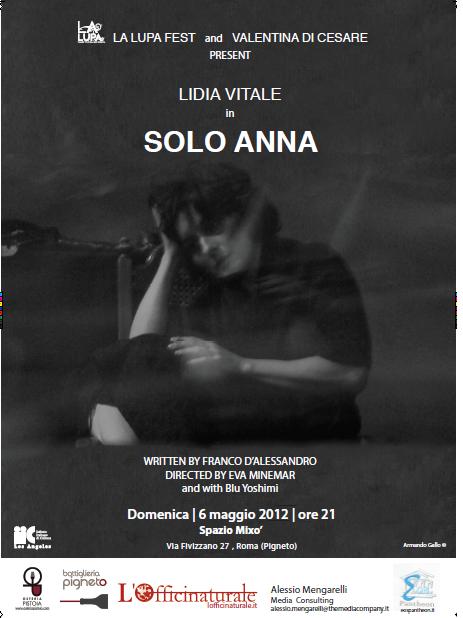 Adapted from the internationally acclaimed play ROMAN NIGHTS comes this new 70 minute one-woman play that reveals many hidden sides to the great actress, Anna Magnani. Inspired by her extraordinary life and career, which was at times as tumultuous off screen as it was on screen, playwright Franco D'Alessandro has crafted a new work that explores the many dramatic, funny and touching aspects of Magnani's illustrious career and fascinating life.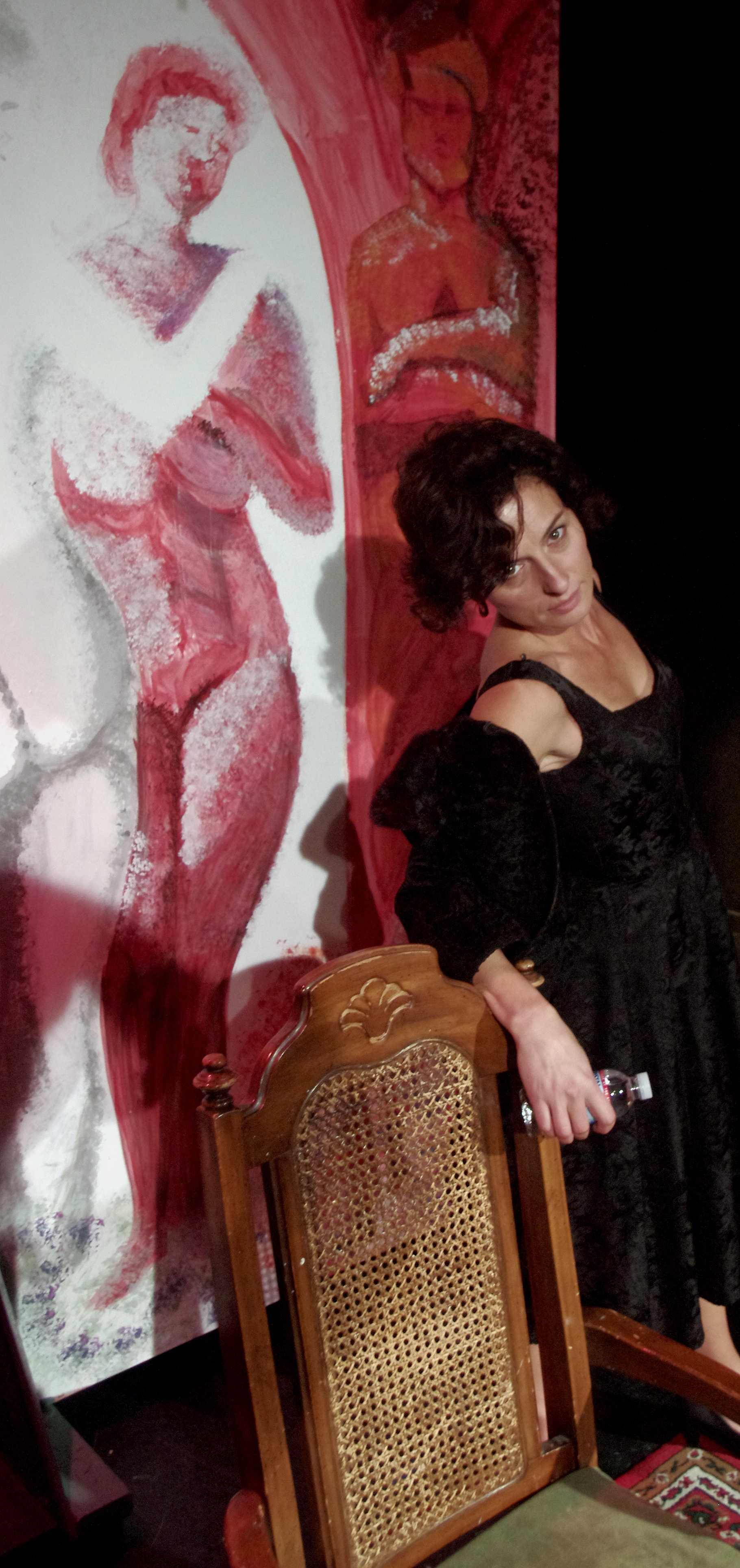 From her early, failed marriage to a director to her fiery affair with actor Massimo Serato (who sired her only child, Luca) to her passionate four year relationship with famed director Roberto Rossellini through her final parade of younger lovers, Anna Magnani battled to be equal in all aspects of her life –in the bedroom, on the stage and at the box-office. Arguably, one of her greatest battles was raising her son (who suffered from polio as a child) as a single mother in Catholic Italy, and fighting the courts to give him the last name "Magnani." Whether demanding equal pay as her male lead in Rossellini's "Open City" or battling for top billing over Marlon Brando in Europe everything in this Oscar® winner's life was a battle. Most of all, she fought to stay true to herself and her art, which were inextricable because Magnani the actress was Anna the woman.
D'Alessandro's ROMAN NIGHTS (which examines the relationship between Tennessee Williams and Anna Magnani) has been translated into six languages and produced or performed in seven countries. After running New York City and London, the play is currently in its 6th sold-out year in Eastern Europe based in Prague, Czech Republic and it just recently opened in Buenos Aires, Argentina where it will run and eventually tour Chile for the next two years.
Acclaimed New York and Los Angeles stage director EVA MINEMAR directs award-winning actress LIDIA VITALE ("The Best of Youth" and "L'Amore Proibito" ) in her American theatrical debut.
LA LUPA FEST One-Act Festival
November 4 through November 20, 2011
Fridays & Saturdays at 8:00 PM
Sundays at 7:00 PM
(No performances Friday 11/11/11)

Working Stage Theatre
1516 North Gardner St
West Hollywood, CA 90046

TICKETS: $20 in advance ($25 at the door).
Purchase in advance at: lalupa.eventbrite.com

Short Films:
The Finalist
by Armand Mastroianni
(11/4, 11/5 & 11/6)



Armandino e il Madre
Directed by Valeria Golino (sponsored by Garofalo)
(11/12,11/13, 11/18, 11/19 & 11/20)

King of the Ring by Joe Taranto
(11/4, 11/5 & 11/6)

Empty Shot by Roberto Zazzara
(11/12 & 11/13)

Nel Ventre Della Balena by Martha Capello & Marisa Gentile
(11/4, 11/5 & 11/6)

L'Amore e' un Giogo by Andrea Rovetta
(11/18, 11/19 & 11/20)



One-Act Plays:

Excerpts of "Solo Anna" by Franco D'Alessandro
Directed by Eva Minemar
Performed by award winning Italian Actress
Lidia Vitale
& Blu Yoshimi Di Martino

"Tragedy on West Utica" by Catherine Pelonero
(11/12 & 11/13)
Directed by Tom Badal
Starring Eileen Grubba, Craig DiFrancia, Carmen Argenziano and Ellen Gerstein

"Two Feet in One Shoe"
Written & Directed by Carmen Milito
(11/4, 11/5, & 11/6)
Performed by: Valorie Paradise-Lant, Kelly Diegnan, Mikandrew Perdaris

"Gesu, Mary, Joseph" by Franco D'Alessandro
(11/12, 11/13, 11/18, 11/19 & 11/20)
Directed by Frank Megna
Starring Daniele Favilli, Eva Minemar and Jack Maxwell

"Bullwhips & Boo-Bird" by Catherine Pelonero
(11/4,11/5,11/6, 11/18,11/19, 11/20)
Directed by Eva Minemar
Starring Michael Sorvino(performing only last weekend), Katherine Macanufo, Bobby Sperlinga


ADMISSION: LA LUPA TEATRO: Theatrical Programme
Tickets: $20 (in advance); $25 (at the door)


BUY TICKETS ONLINE, NOW!! CLICK HERE.
Vissi d'arte, Vissi d'amore
--Tosca by Giacomo Puccini